[Tool] sending large email attachments with Outlook and drop.io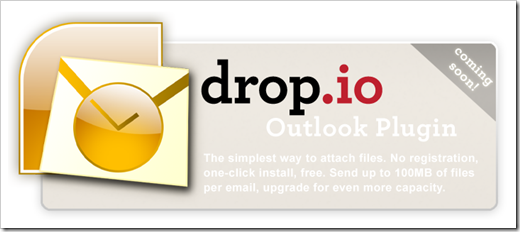 Email isn't a tool that's designed for file-sharing, but probably is the one that gets used the most. Even though when an email with large attachment gets bounced back with the reason that the attachment is too big, people are still thinking of ways like compress, split, etc to get around it.
Drop.io is one of those web services out there that offers a platform for file-sharing and collaboration. What makes it quite unique is that it provides an Outlook plugin that allows you to attach large files and send them out right from your Outlook. That exactly overcomes the obstacle that prevents people from using a right tool when sharing large files between two parties.
The plugin is currently still in public beta but it already works pretty well and stable on both Outlook 2007 and 2010 versions. It seamlessly integrates the process that sends large files from Outlook into its unique file-sharing platform, which is free for up to 100M files.
This definitely will be the one that I will be using a lot for sharing files with others.